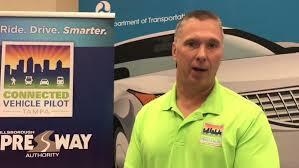 Bob Frey, Planning Director
Tampa-Hillsborough Expressway Authority
Bringing innovative connected vehicle technology to Tampa's downtown.
---
Jim McCarthy
FHWA, Minnesota Office
Three pilot projects being funded by US DOT, designed to save lives, improve mobility and transform operations.
---
Jay Hietpas
MnDOT
Research being done on autonomous and connected vehicles in Minnesota.
---
Mark Fuhrman
Metro Transit
The status of major Metropolitan Council/Transit Projects.
---
Mark Gieseke
Transportation System Management Office, MnDOT
State Road Construction Funding, Impact of 2017 Funding, Corridors of Commerce, Project Selection Process, Major Project Update
---
Ted Schoenecker
Office of State Aid, MnDOT
Local Road Improvement Program/Local Bridge Program, Wheelage Tax/Local Option, Sales Tax Update
---
Si Katara
Pavia Systems
Technology used on the St. Croix River Crossing