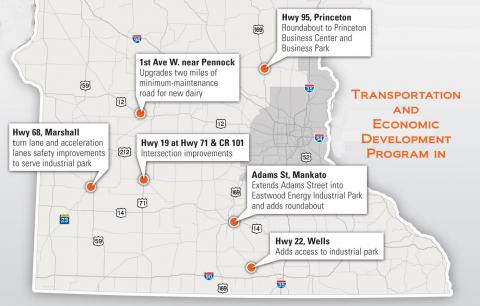 See attached list of TED Grant Projects below.
Lt Gov Tina Smith and MnDOT Commissioner Charlie Zelle announced the projects for the latest round of funding provided under the Transportation Economic Development Program (TED).
The $32 million provided this year in state TED funds will help leverage other federal, state, local, and private funding for a total construction program of $137 million. State funding for the program comes from trunk highway dollars ($29.7 million) and DEED General Obligation Bonds ($2.3 million).
MnDOT and DEED received 22 project proposals to its 2015 solicitation. Eleven proposals came from the Twin Cities metro area and 11 from Greater Minnesota, requesting a total of more than $76 million in funding. Project selection was based on consistency with transportation plans, economic benefits, project financing and project readiness. It's estimated that the recommended projects will create more than 5,900 jobs in the next five years.
All recommended Twin Cities Metro Area projects also have received federal funds under the Metropolitan Council Regional Solicitation Process. TED dollars are generally the last piece of funding needed to move each of the recommended projects toward letting. Construction lettings are scheduled between 2016 and 2018.