10-11:00 a.m.
Sad about the cancellation of Transportation Day at the Capitol? Fear not!
Join our panel of Transportation professionals to get the latest updates on:
The status of Transportation Projects
Revenue estimates for dedicated funds
The latest news on legislative action and how to communicate effectively with legislators now
The status of Federal Transportation funds including any funds in stimulus packages
All online!
Can't make it at that time? Don't worry!
The webinar will recorded and will be available to those who register on demand.
So you can watch it any time that works for you.
Hear From:
Brian McDaniel - Franzen Moore

Serge Phillips - MnDOT Federal Liaison

Laura Ziegler - AGC of MN

Margaret Donahoe - MN Transportation Alliance;
This event is brought to you by our sponsors.
Learn more about our sponsors here!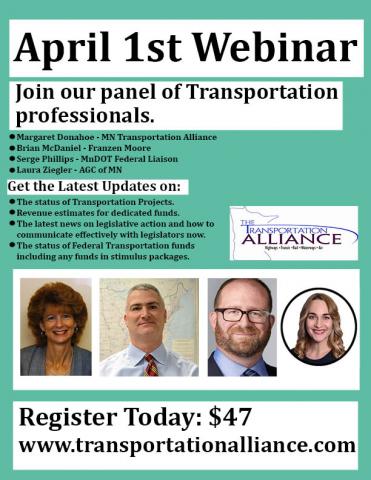 Event Accommodations
$47 with option to watch on demand.