What: Design-Build Institute for America Presents: Design-Build for Local Governments under the Minnesota "Best Value Law" Workshop
Where: St. Cloud
HolidayInn & Suites
75 South 37 Ave
56301
When: Wednesday, June 5 from 10:00 AM to 3:00 PM
Lunch will be served. 
The event is co-hosted by the Minnesota Transportation Alliance and the Association of Minnesota Counties.
---
Minnesota's "best value" law gives local governments greater flexibility in delivering their projects. Learn how the design-build method can provide higher quality projects faster and more cost-effectively.
This workshop will focus on:
The two-phase design-build source selection process

How design-build incentive contracting promotes cooperation, collaboration and helps local governments deliver high quality projects on time and on budget

Performance-based requirements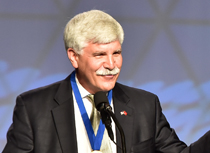 The speaker will be Craig Unger, Principal and CEO of Unger Security Solutions, LLC, which provides consulting services for acquisition management and project delivery and advisory services within the security, intelligent and detention environment. 
Unger served as President of the Design-Build Institute of America (DBIA 2003 – 2004) and is regarded as a leader of the design-build movement in the public sector. DBIA also granted Unger with the Institute's highest honor in 2015, presenting him with the Brunelleschi Lifetime Achievement Award. In 2018, DBIA elevated Unger to "Fellow" as a member of the inaugural Fellowship class elected by a jury of their peers.